Fabrication & Erection
We are executing fabrication and erection services of Power Plants to our clients. These Services are rendered by our highly qualified service engineers who make sure that the installation meets all the required engineering standards. These engineers ensure that the Commissioning Services performance are trouble free and highly efficient. The services are provided within the promised time frame and no scope for complaints are left on the client's side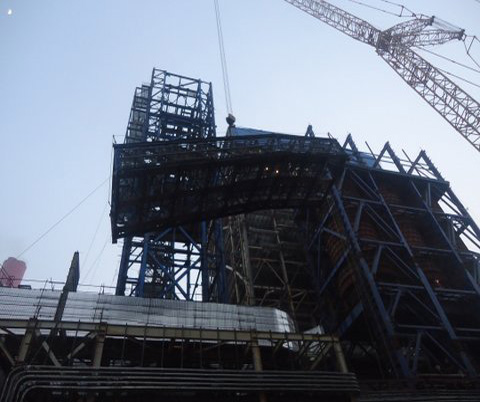 ---
Erection Of TPP
Duct And Duct Structure
Erection Of Power Plants
Mechanical Fabrication
Our erected projects have been implemented in accordance with highest quality standards and successfully meet all the stringent measures as per specifications provided by the clients namely (6x660MW) SUMPP,Singrauli,MP & NPL(2x700MW) Rahpura Critical Thermal Power Project, Punjab in association with IOTEP& L&T Power respectively. SEPL's a significant contributing factor to our nation's present and imminent prosperous future that comprises conventional thermal plants by way of its erections and commissioning of Thermal Power Projects (Specially Boilers, ESP, Structure, CHP, Rotary Parts, Ducts, Insulation, Paintings and Electrical works
In the process of erection work of a Thermal Power Plants the ducting and duct structure are fabricared and erected by our qualified engineers who ensure of its quality.
SEPL's a significant contributing factor to our nation's present and imminent prosperous future that comprises conventional thermal plants by way of its erections and commissioning of Thermal Power Projects (Specially Boilers, ESP, Structure, CHP, Rotary Parts, Ducts, Insulation, Paintings and Electrical works. Having experienced with erection work associated with RIL,IOTEP,L&T Power at their respected site at UP,MP & Punjab and our own strength of skilled work force & T&P, we have achieved our mile stones in the erection of Power Plants.
We are a leader in offering a best quality of fabrication, erection & testing services of Boilers for Power Plants to our clients. Our main objective is to achieve the satisfactions of the clients.We are providing these services on contract basis. We are providing these services at reasonable prices only in Shivam Energytec Private Limited.
---